Stay up to date! Follow us on Facebook :)

Click the Facebook logo and 'friend' us on Facebook so you can always stay up to date on everything going on with Emmaus House of Hospitality.
---
---
Emmaus House was in the News!

The Daily Herald has published a story all about the work Emmaus House is doing to fight hunger in Lake Zurich. Click
THIS LINK
to read the full story!
---
Special thanks to the Caring Women's Connection...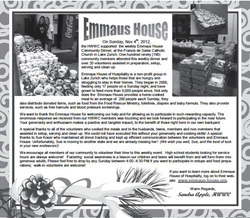 The
Caring Women's Connection
(formerly known as the Hawthorn Woods Women's Club) has been very generous to Emmaus House over the past several years. They have provided financial as well as volunteer support. They recently mentioned Emmaus House in their newsletter which you can read
here
.
---
Our Letter to the Editor of the Daily Herald


(Below is a letter our President wrote to the Daily Herald that was published in the paper on December 19, 2012:)
Thanks for support of hunger charity
This is a letter to thank many people in the community who work with our group to put food on the tables of local families. Emmaus House of Hospitality is a Lake Zurich charity founded in 1999 to fight local hunger and homelessness. We started by serving 12 guests a hot, nutritious meal on a Sunday night.
We now serve 150 to 300 guests every Sunday night in Valker Hall located in St. Francis de Sales Catholic Church. We also host a Sunday night food pantry after the dinners by making available meat, fish, fruit, vegetables and other food harvested from local retailers.
To read the full letter click
THIS LINK
---
Lake Zurich Patch covers the Jeepers Sneaker event!

The Hawthorn Woods Women's Club, a local shoe store and
Emmaus House of Hospitality
made possible another successful Jeepers Sneakers event. One hundred and three pairs of brand-new Nikes were distributed to local school children on Sunday, Aug. 12—just in time for back-to-school.
Read the whole story on Patch.
Click here!
Thank you to the HWWC and Patch!
---